Summer is around the corner, now is the best time to elevate your makeup and infuse your looks with the abundant energy. Why not enhance your appearance by pairing it with some owsome colored contact lenses? This combination can absolutely create stunning looks that make you outstanding in your summer party! If you're a fan of wearing colored contact lenses, you're likely to enjoy complementing them with makeup.
While trends come and go, there are still some makeup styles that are incredibly popular this year and will undoubtedly bring you breathtaking summer looks. At Unicornbeauty, you are able to discover some of the hottest colored contact lenses that are perfectly paired with some trendy makeup styles. In this blog post, you will be provided with valuable information on how to suit your outstanding makeup to our colored contact lenses to blow your friends away.
Show off Your Radiant Look with Sky Blue Contact Lenses
One of the hottest colored contact lenses in summer is the color blue ones. Here at Unicornbeauty, which offers a variety of colored contact lenses that will improve your style, you may realize your desire to pursue the ideal makeup look that is inspired by the summer.
Taking inspiration from the serene waters of the Aegean Sea, the Aegean Sea series of Unicornbeauty offers elegant designs for your summer makeup. Immersing yourself in captivating hues can transport you to breathtaking seaside views. The Aegean Sea series is definitely your go-to choice for summer makeup.
Aegean Sea Blue: Discover Stunning Blue Eyes
Enter the world of breathtaking blue eyes with our extensive range of Aegean Sea blue-colored contact lenses. These blue contact lenses do wonders whether you want a quick change or a thorough makeover.
Every set of blue contact lenses in our assortment is ideal for cosplay, costume parties, or glitzing up your regular outfit. Looking to have beautiful sapphire blue eyes for a summer party? Explore light blue contact lenses for a subtle effect or deep blue shades for a more dramatic look that's perfect for the season. Unicornbeauty's Aegean Sea series has you covered.
Our wide collection of colored contact lenses showcases various bold blue shades and styles that help you create sophisticated yet natural looks. Our designs perfectly replicate the appearance of real irises. Aegean Sea blue contact lenses have become a popular choice among online celebrities and stars, which is why we strongly recommend them to you. Whether you're seeking vibrant and captivating styles or a more natural look, our blue cosmetic contact lenses offer a range of shades and elegantly simple designs.
Makeup Tips for Blue Eyes:
Tropical Teal Paired with Blue Contact Lenses
To stand out this summer, try pairing sky blue contact lenses with teal eyeshadow. This combination transports you to a tropical setting and a trend influenced by ocean tones. Use teal eyeshadow in combination with blue lenses to give yourself a stunning oceanic look.
The combination of aqua blue contact lenses and teal eyeshadow immerses you in the lush beauty of tropical colors, resembling the vividness of tropical waters. These hues capture the attraction of a summer paradise by evoking the serenity and unique charm of maritime vistas. Tropical teal and energizing aqua blue combined to produce a colorful and appealing look that echoes the allure of summer.
The tropical color scheme is nicely complemented by the sky-blue tones of the lenses, which further heighten the depth and appeal of your eyes. On top of reflecting the vibrant hues of the ocean, this combination also displaying the inherent beauty of your eyes, leaving a deep impression on your friends during the summer gatherings.
Whether you're sunbathing by the shoreline or attending evening beach parties, the combination of tropical teal eyeshadow and Aegean Sea blue contact lenses is your gateway to showcasing an enchanting and alluring summer makeup look. It exudes the spirit of the sun-drenched coastlines and offers you a mesmerizing and confident appearance, just like a refreshing summer breeze.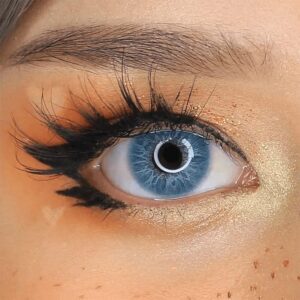 Beachy Bronze and Blue Contact Lenses
Another color that complements blue contact lenses is the bronze and sandy hues of eyeshadow, evoking the glow of sun-kissed skin. The color of the contacts, inspired by the beach, reminds us of a sense of relaxation and a captivating bronzy allure. It is well-suited for casual outings as well as charming beach occasions.
To enhance coastal charm, pair beach-inspired makeup with Aegean Sea blue contact lenses, echoing the clear and captivating hues of the summer sky and ocean. The warm tones of bronze eyeshadow contrast beautifully with the cool tones of blue contact lenses, creating a visually harmonious contrast that mirrors the merging of land and sea.
Whether you're basking in the crashing waves or attending a sunset beach party, the combination of beachy eyeshadow and Aegean Sea blue contact lenses encapsulates the spirit of sunny shorelines, offering you an intoxicating and confidThe charm can accentuate your inner beauty, making you a unique individual.ent look reminiscent of the summer sun.
Elevate Your Look with Brown Contact Lenses and Striking Black Eyeliner
Another color that you should not miss in summer is the color brown. While the classic choice of applying black eyeliner for a cat-eye look has been around for decades, this season takes it to new heights with thicker and more dramatic lines that exude allure. Pair this bold eyeliner style with brown contact lenses to create a unique and daring ambiance.
Combining thick, winged eyeliner with smoky-effect contact lenses results in an irresistibly captivating makeup look. Alternatively, opt for a lighter eyeshadow palette and lip color, allowing your eyes to be the focus while maintaining an elegant ambiance.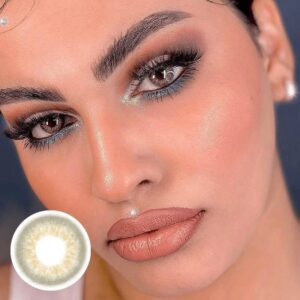 The brilliance of bright hazel brown contact lenses lies in their harmonious contrast with deeper eye makeup. Unicornbeauty's colored contact lenses offer natural tones that seamlessly match all skin types. When your makeup is bold and impactful, the light hazel hues of brown contact lenses provide a gentle softness, blending your overall makeup effortlessly.
Here, you can experiment with the Miami Brown contact lenses, selecting shades that blend with your natural eye color. This can enhance your appeal and assurance to make your eyes the center of everyone's attention. Soft lip colors can soften the appearance, allowing your eyes to stand out and steal the show.
On your cheeks and eyelids, dab warm gold-toned foundation to impart a dazzling glow that resembles sunlight shining through leaves. Pairing brown contact lenses with attention-grabbing black eyeliner produces a bold and captivating effect, whether you choose the bold cat-eye route or opt for a sultry smoky look.
The light brown hues of the lenses act as boosters of your radiant appearance by introducing warm natural tones into your eye color choices. By incorporating warm natural tones into your eye color choices, the light brown hues of the lenses serve as amplifiers of your radiant appearance.
However, the summer experience isn't confined to lush green forests. It is also reminiscent of the freshness of peaches and the juiciness of summer fruits. Infusing this vitality into your makeup will create an expected effect. Opt for peachy eyeshadows and blush shades that convey the spirit of sun-soaked orchards and blooming gardens.
Imagine the rich foliage of a summer garden vividly captured in your gaze. As peach tones radiate from your eyelids and cheeks, green contact lenses create a subtle interplay of colors, evoking the rustling of leaves in a gentle breeze. Just like the composition of natural hues, your gaze delivers a soft narrative of abundance and the charm of summer. Transition your inspiration from lush green leaves to the radiant glow of summer sunlight, creating a vibrant and joyful look.
Creating the Verdant Forest Vibes with Green Lenses
Color green is one of the most prevalent colors in this summer. As the summer sun beats down, escape into a refreshing world with a dazzling green makeup look. A simple shift in your makeup palette can create a captivating transformation. This summer, whether you have a fair or deep complexion, you can effortlessly embrace the lush green of enchanted forests.
Subtly highlight the inner corners of your eyes with a touch of highlighter, creating a radiant shimmer that reflects the dance of sunlight filtering through leaves. Applying such a bright shade to your lips creates a fairy-like forest glimmer, captivating and sparking the imagination.
Enhance your dazzling appeal with warm green contact lenses, available from reliable brands like Meta Colored Contact Lenses or explore the extensive range offered by Sin Colored Contact Lenses. Not only are these amazing contact necessary accessories, but they are also doors to transformation.
Pair Grey Eyes with Beach Pebbles Color
In the summer, grey-tinted contact lenses are highly sought after. These color contact lenses offer a variety of special and delicate designs that perfectly in line with the summer theme. The fresh and vivid features enable gray lenses to fight the intense summer heat. As you go out on an explorational voyage, you can enhance your beauty by wearing Pearl Grey Contacts,
Lenses, or Pandora Grey Lenses. Our gray contact lens collection introduces an air of mystery to your personal style. For a truly striking aesthetic, consider Flechazo Ice Grey contact lenses and Unspoken Grey contact Lenses, infusing a sense of tranquility into your gaze, even on the hottest days, making you look effortlessly cool.
Grey contact lenses seamlessly integrate into various outfits and makeup looks. When you're chilling by the waves or joining a sunset beach party, the combination of beachy eyeshadow and gray contacts captures the sunny coastal vibes. It gives you an enchanting and confident look that's as refreshing as a sea breeze.
Regardless of whether you have light or dark eyes, grey tones have the ability to enhance and highlight your natural beauty.
As a neutral base, grey contact lenses encourage you to experiment with various makeup techniques. You have the chance to express your creativity with these contact lenses, whether you want a soft, sun-kissed aesthetic or a vivid explosion of color. When you bask in the warmth of the summer sun, consider the allure of gray contact lenses. By wearing these lenses, your charm and inner beauty and be enhanced. Whether you're strolling on the beach or attending exquisite summer soirées, gray contact lenses add a touch of sophistication to your overall look, ensuring you radiate carefree style throughout the season.
As you journey through these sunlit days on the calendar, where the sun's rays are most intense and the heat of summer fills the air, take a moment to reflect on whether your makeup choices and colored contact lens pairings truly capture the vibrant spirit of this season. As you go through these sunny days, keep in mind that your makeup choices and colored contact lenses are about more than just looking good - they're about embracing the spirit of the season.
Our stunning colored contact lenses beautifully reflect the vibrant colors of summer, making you truly unique among the crowd. These colored contact lenses are reminiscent of vibrant and lively spirit of the cool summer. Explore, experiment, and relish in the beauty that summer bestows, for within every stroke and placement of lenses lies infinite opportunities and the chance to truly shine. Discover a variety of colored contact lenses at Unicornbeauty, immerse yourself in endless possibilities, and add a touch of allure to your summer gatherings.