Halloween is the perfect time to unleash your creativity and embrace the world. Colored contact lenses add a magical touch and become an essential element in shaping an attractive appearance.   With tons of colors and styles to choose, these lenses have the power to decorate your Halloween costume and bring your characters to life. In this blog post, we'll explore some fascinating colorful contact lens ideas,which help you achieve a memorable and amazing Halloween transformation.
Spooky and Spectacular for Halloween
Halloween is that special time of the year when the ordinary becomes extraordinary. It's all about embracing creativity, self-expression, and a touch of intrigue. Many people opt for colored contact lenses to make a striking impact with their costumes, injecting an enchanting atmosphetre into the Halloween festivities.
Imagine you could instantly change your eye color to match your Halloween character's persona. Halloween colored contact lenses make it possible.
Discover our latest collection of Light Reflective Color Lenses - Sun iris Green.These contacts are designed to enhance your everyday style.Designed with chrome as inspiration, they provide fascinating effects that change with lighting and the environment.Multi-dimensional ingredients and transparent pigments create magical reflections that change the color of your eyes. You'll be delighted by the ever-changing hues as these contacts adapt to different light settings. Get ready for unexpected surprises that will elevate your appearance to new heights and leave a lasting impression.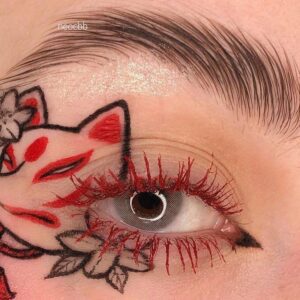 If you're interested in elevating your cosplay experience, we have everything you need!
Our Unicornsbeauty Flechazo quartz Colored Contact Lenses offers 6 ultra-realistic, highly-detailed shades that are super pigmented, ensuring maximum impact. Our skilled artisans meticulously hand-paint each lens with a beautifully multicolored style, showcasing a subtle frost finish and a vibrant neon accent for a truly one-of-a-kind and attention-grabbing aesthetic. These contacts are expertly designed with a smaller pupil size, offering an elegant and captivating aesthetic.
These colored contacts make a striking impression and are a superb complement to elevate your appearance, whether it's for daily use or to enhance your cosplay. Prepare to craft your most remarkable cosplay looks to date!
Your eyes deserve the sparkle! Sin Blue serves a luminous effect like no other! This lens is rich with pastel blue tone and blends with an ash hue shade and a hint of yellow and sky blue in the middle of the inner lenses. For the rim shades are stunningly covered in pastel dark blue.  This lens will transform your eyes as shimmery as the gemstone, but it's still subtle enough for your everyday look.
Safety First: While Halloween colored contact lenses are a fantastic way to transform your look, it's essential to prioritize safety. Always purchase lenses from reputable sources and follow proper hygiene and care guidelines. Never share lenses with others, and be mindful of how long you wear them. Remember, your eyes are precious.
Romantic Charm: Valentine's Day
Valentine's Day, a celebration of love and affection, is the perfect occasion to express your innermost feelings and showcase your unique style.  Amidst the traditional exchange of gifts and heartfelt sentiments, a subtle yet impactful accessory has emerged to add a touch of enchantment to this special day: Valentine's Day colored contact lenses.
Whether you're planning a romantic candlelit dinner, a cozy night in, or an exciting adventure, there's a pair of colored contact lenses to match the mood of your Valentine's Day plans.  Opt for warm, earthy tones to create an inviting and approachable gaze, or choose vibrant and alluring hues that mirror the intensity of your emotions.
Valentine's Day colored contact lenses aren't just about bold and dramatic transformations.  They can also be a testament to subtle elegance.  Soft, natural-looking shades can enhance your eyes' allure while maintaining a refined and sophisticated appearance, perfect for a timeless and romantic evening.
Hazel Colored Contact Lenses 
To make a long story short we would definitely try these with the bright mascara trend and also pair it up with neon make up trend. We would spice things up by highlighting the inner corner with some glitter as well. 
With a wide range of captivating shades, from the serene and soothing blue-grey to the lively and playful green, there's a color to suit every individual. And the best part is that these colored contacts not only exude style but also ensure utmost comfort and hassle-free wear. Crafted using high-quality materials, these lenses are thoughtfully designed to provide all-day comfort, allowing you to wear them confidently on various occasions - be it a romantic date, an intimate dinner, or simply basking in the joy of a beautiful day.
The Allure Love series has won the hearts of many who seek a natural effect. Just like a refreshing cocktail on a scorching summer day, these lenses offer a pleasant sensation under the blazing sun. Bid farewell to monotony as they effortlessly brighten and enhance the beauty of your eyes in an instant. They effortlessly become your ultimate daily accessory, while the blue variant adds a touch of sweetness to your Valentine's Day makeup, subtly transforming your eye color into something soft and enchanting.
Are you searching for the ideal accessory to commemorate love this Valentine's Day? Look no further than Crush on You. If you're a first-time contact lens user unsure of which style to choose for your Valentine's Day look, go for natural monochromatic lenses!
We offer a wide range of monochrome options, including soft and natural tones as well as bold and vibrant tones. No matter what your style is, you will find the perfect match here. The best part? The dot pattern is versatile enough to be worn daily while still making a statement. Whether you are preparing for a special occasion or aiming to enhance your natural beauty, these lenses are the ideal choice for you.
Glimmering Christmas Magic
With the festival approaching and the world bathed in twinkling lights, it's time to show off the holiday spirit and celebrate in fashion style. Amidst the merry decorations and warm gatherings, there's a charming accessory that can add an extra touch of magic to your Christmas look: Christmas-themed colored contact lenses.
During Christmas season, the splendor and happiness it brings can be enhanced with the use of colored contact lenses. Available in a variety of styles and colors, these lenses are tailored to your holiday look and enhance your overall look. Whether you're going for a classic red and green ensemble or a more subtle winter wonderland look, there's a pair of Christmas-themed lenses to match.
The Golden Ochre contact lens offers a gorgeous light brown shade that will give you a stunning Christmas golden look. This product subtly changes your eye color, enhancing brightness without taking away from the natural charm. The incredible effect it produces on dark brown eyes is attributed to the delicate yellow spots scattered across the lenses, producing an enchanting depth and size that perfectly wraps the entire iris. These lenses are brought to you by Unicornsbeauty Flechazo Brown.
This lens combines beautiful shades of gray and hazel that blend effortlessly to give you a truly wonderful look. Pandora Grey color contact lenses are a perfect choice for the Christmas season as they add warmth to your eyes and give your entire complexion a radiant glow! You can wear these lenses throughout the festive season and enjoy their captivating effect!
Aegean Sea II Green color contact lens brings together an unusual blend of olive greens and blue-gray tones which create a look which is both unique and striking. An effortless lens for dazzling, this one should absolutely be in your Christmas line-up! You will fall in love with its wide range of warm colored contact lenses!
Notice for Wearing Colored Contacts Lenses
A lot of people like to wear colored contact lenses during these special occasions to achieve cute or scary looks. It is critical to note that colored contact lenses are classified as medical devices and should only be worn according to a prescription. In this article, I will provide you with helpful tips about wearing colored contact lenses.
Buying safe and appropriate contact lens
Contact lenses can be bought only with a prescription. If you get a pair of contact lenses without asking for a prescription, you should be aware of it. It is illegal in the US. Maybe it is a little complex to get a contact lens, but that's a guarantee for your eyes' health.
Your eyes are sensitive and intricate organs, and using contact lenses improperly can result in various eye health problems. Getting a prescription ensures that you receive the correct type of contact lenses tailored to your individual eyes and vision requirements.
Alongside your prescription, your eye care professional will provide you with important information about proper contact lens care and hygiene. Adhering to these guidelines is essential for preserving optimal eye health and ensuring the longevity of your lenses.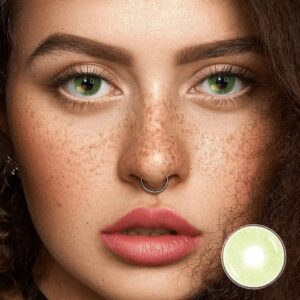 Washing your hand before wearing it
It is recommended to wash your hands thoroughly with soap and water, and ensure they are dried properly. After this step, you can wear your contact lens. This step means avoiding bacteria from your hand infecting your eyes.
Proper hand hygiene prevents the transfer of dirt, oils, and potentially harmful microorganisms from your hands to your contact lenses. When particles build up on your lenses, they can cause discomfort, blurred vision, or, in severe cases, lead to eye infections.
Don't wear it for over 4 hours for the first time
Even the most comfortable contact lens should not be worn over 4 hours, because your eyes need time to adapt it. Just like you moving to a new environment and taking time to adjust yourself.
The 4-hour rule is not only about initial comfort but also long-term eye health and safety. By gradually allowing your eyes to adjust to wearing contact lenses, you establish the groundwork for a comfortable and enjoyable experience.
Remember that everyone's eyes are unique, and the adaptation period may vary from person to person. If you have any concerns or experience persistent discomfort, it is advisable to consult with your eye care professional for guidance. With patience and diligent care, contact lenses can offer clear vision and lasting comfort throughout the day.
Clean it with an eye solution when you do not use it 
When you buy a contact lens, the eye doctor will recommend an eye solution to clean your lens. Contact lens is easy to breed bacteria. It should be cleaned with a special solution but not water or any other kind of water. Tap water can contain harmful microorganisms, and saline solution lacks the disinfection properties found in contact lens solutions. Utilizing these alternatives may elevate the susceptibility to eye infections and discomfort. Prioritizing your eye health justifies the additional exertion.
Don't share your contact with your friend
Maybe a not symmetry contact lens is cool, but don't exchange your contact lens with your friend. Everyone's eyes environment is different just like our fingerprints. The one that fits your friend doesn't mean to fit you as well. If any of your friends are considering contact lenses, it is strongly recommended that they consult an eye care professional to receive lenses that are customized to their specific requirements, thus minimizing the risks associated with sharing lenses. So, please remember to always wear your own contact lens.
Keep in mind to take out the lens during sleeping or napping
No matter how tired you are after a whole day playing with your friends; you should take out your contact lens. Otherwise, your eyes may dry. What's worse? The contact lens may attach to your eyeball and be hard to take out. We all know that our eyes also need breath.
After acquiring a comprehensive understanding of different tips for wearing colored contact lenses, you can delve into the possibility of purchasing a pair that perfectly aligns with your personal preferences. Finding the right place to buy them and the easiest way to do it can present another challenge. If you would rather steer clear of brick-and-mortar establishments, online shopping offers a hassle-free and convenient alternative. Recently, I came across a reputable online shop called Unicornsbeauty that offers a delightful range of colored contact lenses, perfect for special festivals. Choosing from their selection might save you time and effort. Hope you will like it!