Finding a false eyelash style that you love may be easy, but ensuring it suits and enhances your particular eye shape is the important part. Although this may seem difficult, once you have established what eye shape you have and what styles work for you, stocking up on strip lashes is really straightforward.
Here at Unicornsbeauty, we stock a huge selection of fake eyelashes that each offer an enhancement for a range of different eye shapes.
One of the most common eye shapes we often get asked to pick a style for is hooded eyes. Hooded eyes mean that you have more skin above your crease and most of your upper lid is hidden when your eyes are open. Therefore to enhance your eyes, you need to create more depth.
Selecting a style that features increased length in the centre as well as heavier volume, allows for an eye-opening effect that instantly gives the illusion of larger-looking eyes. Don't select a style that is too dramatic as this will close the eyes up.
Celebrities with hooded eyes: Blake Lively, Jennifer Lawrence
Shop lashes for hooded eyes here.
If you're lucky enough to have large, round eyes then you tend to get away with a wide variety of different lash styles. You can see the majority of white around your iris if you have round eyes and long lashes with a dramatic curl tend to look best as this lifts and enhances your upper lid.
Voluminous styles can sometimes be too heavy and make your eyes look much smaller than they are, instead opt for a natural lash with elongated ends for an instant cat-eye effect.
Celebrities with round eyes: Katy Perry, Nicole Ritchie
Shop lashes for round eyes here. 
Mono-lidded eyes are most common among Asian women and it is when there is no visible crease on the eyelid as it is covered by skin. Women with mono-lid eyes tend to have very straight eyelashes, therefore false lashes are the perfect way to enhance their eyes creating length, lift and curl.
Multi-layered lashes with a curled, fluttery appearance really compliment mono-lid eyes as they work to open them up for a wide-eyed illusion. A lash with a graduated length is also a great way to elongate mono-lid eyes, adding a touch of glamour to your look.
Celebrities with mono-lid eyes: Sandra Oh, Park So Dam
Shop lashes for monolid eyes here. 
Almond eyes show no white above or below the iris, and they're slightly pointed at each outer edge with a wide centre, making them extremely versatile. Many different lash styles accentuate almond eyes, and they look best when their shape is enhanced with a full lash style that features evenly distributed volume.
Celebrities with almond eyes: Beyonce, Angelina Jolie, Rihanna
Shop lashes for almond eyes here.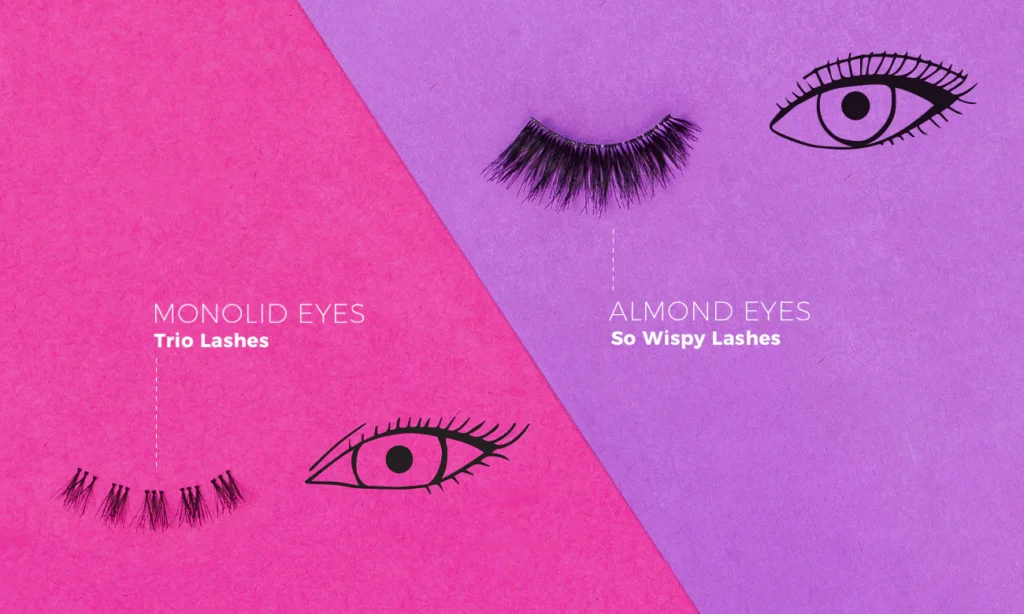 Prominent eyes have a large appearance and they look as though they are bulging out of the socket. Don't opt for an overly long lash as this can provide an unnatural 'surprised' facial expression. Instead go for a style with short and medium length lash strands, defining and drawing attention to the lash line and softly enhancing your eye shape.
Cluster and spiky lash styles are both lovely options for prominent/protruding eyes.
Celebrities with prominent eyes: Drew Barrymore, Penelope Cruz, Stella McCartney
Shop lashes for prominent eyes here. 
Downturned eyes drop down slightly towards each outer edge and this eye shape is best for creating cat-eye looks with eyeliner. Correct the downturned outer corners of your eyes by creating an upwards illusion with a full and tapered lash style.
The bigger the better, a dramatic lash will draw attention to your eyes and provide an eye opening lift.
Celebrities with downturned eyes: Marilyn Monroe, Nicole Kidman, Aaliyah
Shop lashes for downturned eyes here.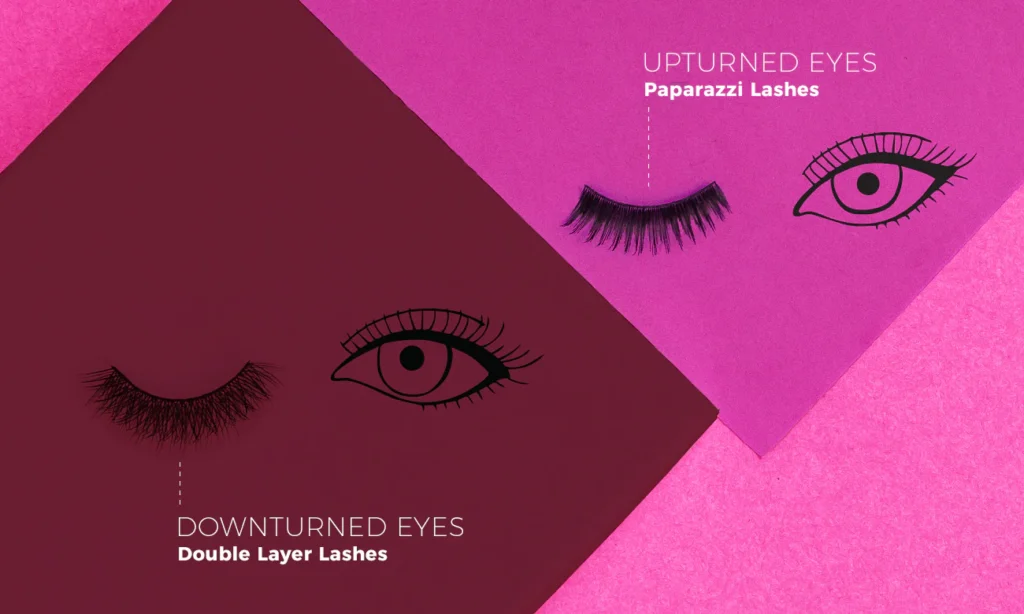 An upturned eye has the same appearance as an almond shaped eye but features a natural lift in the outer corners. We suggest applying a lash with length and fullness focused away from the outer edges which will enhance your eyes without drawing attention to your upturned corners.
Celebrities with downturned eyes: Lucy Lui, Jamie Chung
Shop lashes for upturned eyes here.
If you have close-set eyes the inner corners of your eyes sit very close to your nose. Focus on adding length to the outer edges to lift and accentuate your eyes and open out the space between your eyes. Many elongated styles will work for this eye type.
Celebrities with close set eyes: Miley Cyrus, Sarah Jessica Parker
Shop lashes for close set eyes here.